Random Pairing Dance Competition
Join us Saturday, April 1st for a TOTALLY RANDOM PAIRING DANCE COMPETITION. For the first time ever at Guitars and Cadillacs, we are doing a mixed Jack and Jill style dance competition where competitors will be randomly paired up (regardless of gender and lead/follow role). There will be prizes for the top three pairings. The first place pairing wins belt buckles and a $500 cash grand prize. 
*Don't worry, we will still have plenty of dancing for non-competitors!* 
We have a limited number of slots, so if you want to be guaranteed a spot in our competition, please click the link below for the sign up form. Contestants can also sign up in person the night of the competition on a first come, first serve basis, but only if there are available spots. 
April Fools Random Pairing Sign Up Form
Please be advised that this is a completely random pairing competition, and this means that anyone wanting to participate might be paired up with someone who is the same gender or role (leader/follower). Judges will follow a scoring system to eliminate pairs in each round. The final pairs will be ranked by crowd participation (so you'll definitely want your friends to come and support). Please reach out to us with any questions. We are so excited for April 1st!
Belt buckles and $500 cash grand prize for winning pair
Prize packs for top three finalists

 

Doors open at 7pm
Competition starts at 10pm. *Please arrive by 9pm if you want to compete.
$1 well drinks, $2 select beers, and $ crown and down drinks until 9pm.
Random shot specials until 11pm.

 

$6.50 cover after tax for 21 and up
18-20 year olds welcome with $20 cover
Plenty of open dance floor time for everyone to dance!
Country music and dance sets brought to you by DJ Coletrain

 

2,500 square foot dance floor.

 

Covered smoking patio.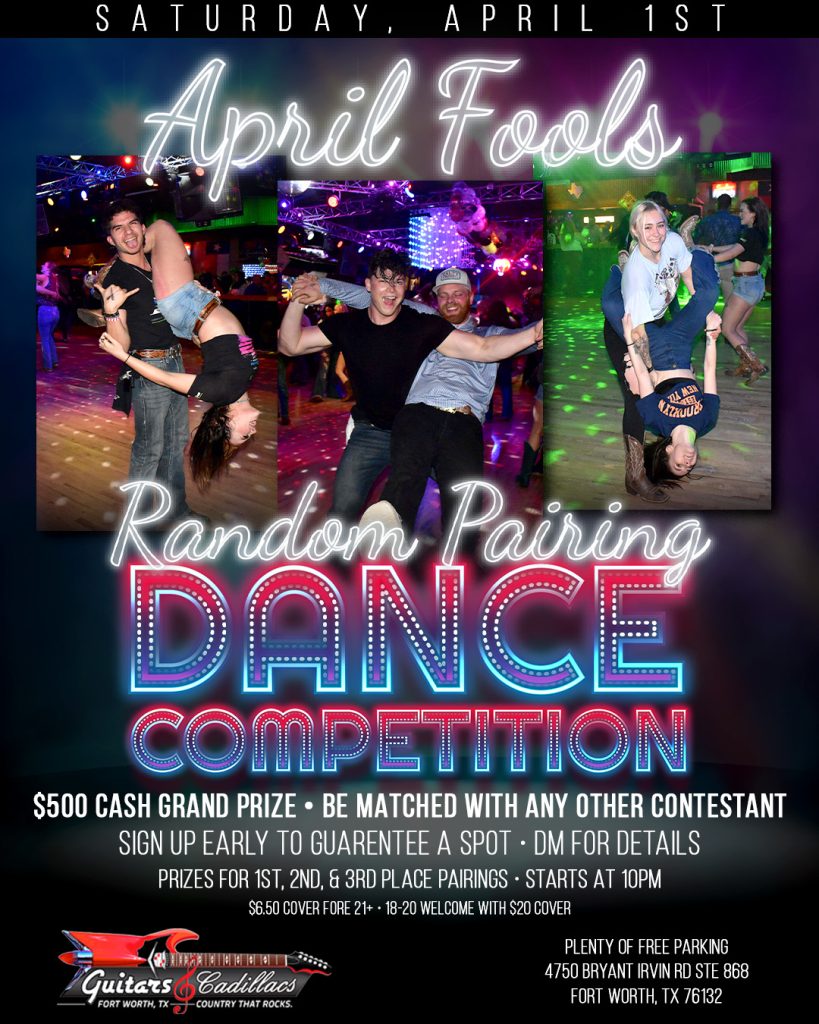 4750 Bryant Irvin Rd. Ste 868
Fort Worth, TX 76132